I have to admit, I totally didn't get it when I was a kid and my mum was obsessed with Princess Diana (complete with wearing dresses just like hers).
I remember seeing Lady Di on the covers of all the celebrity mags with her perm, shoulder pads and giant button-up suits and thinking I'd never think she was cool.
I much preferred to take my fashion cues from Baby Spice, thank you very much - pass the platform shoes.
Well, well, well, how the times have changed...
Now, I'm Insta-stalking vintage Princess Diana pics like my life depends on it.
If you haven't noticed, they're STILL popping up all over the place (the after-effects of royal-wedding fever obviously) and there are some real gems in there.
Princess Diana knew how to work a chequered suit and spotted dress better than any current influencer.
But the looks I'm loving the most are of her off-duty style - she was the athleisure OG.
It's a look that's definitely going strong this season...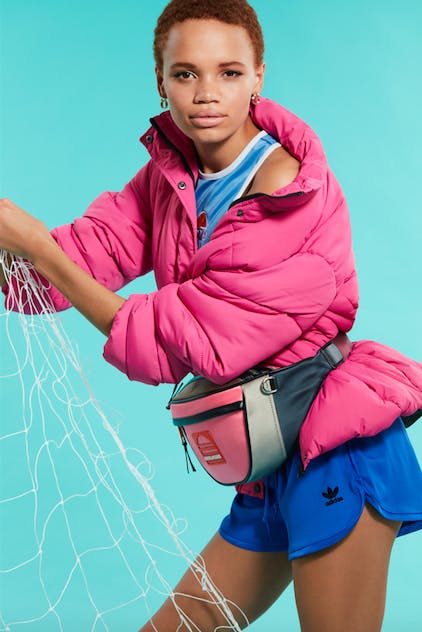 So, here's a highlight reel of Princess Diana's best sportluxe looks to get in the zone…
The trend: Bike shorts
Bike shorts are the latest non-negotiable piece you need in your weekend look. Any length and colour goes, they just needs to be above the knee. Wear them with a baggy jumper, big socks and chunky sneakers. I live in these.
The trend: Baseball caps
Bring a bit of a cool athleisure vibe to your basic tee and mum jeans with a baseball cap. Look for ones in bright colours or with logos to add personality to your look. It's a good way to cover up day-three hair too TBH, haha
The trend: Puffer jackets
These are massive ATM (in all meanings of the word). The brighter, the better. Go for one with a cool print or eye-catching colour to make it the statement piece of your look. Just like teddy coats, they're trending in a big way but are also super cosy. I'm never taking mine off.  
The trend: Eighties sunglasses
While the tiny sunglasses trend is still going strong, big sunglasses like the ones your mum wore in the '80s are also in. Think: sunnies with prints, reflector lenses, and just big frames (the best when you've had no sleep). Also, how could I forget the string so you can hang them like a necklace when you're not wearing them? Classic.
The trend: Skivvies
I remember my mum wearing skivvies a lot when I was a kid… well, they're baaack. Just in time for winter, too. I've noticed people like @jenatkinhair and @rubytuesdaymatthews wearing them a lot and doing it so well. They're cool layered under your baggy jumper or puffer jacket, but can also be worn under a slip dress with sneakers. You can't go wrong with a simple black or white one. This is my best friend on the freezing-cold train commute.
BUT WAIT...
While Diana was a total fashion inspiration, she also had substance and led the way for us independent women...
"People think that at the end of the day a man is the only answer. Actually, a fulfilling job is better for me," she said.
YES, queen.
She campaigned to ban landmines to help reduce the number of innocent adults and children getting injured.
She also embraced HIV patients to lessen the worldwide stigma.
"Hugs can do great amounts of good - especially for children," she said.
Oh my god, I love her.
I can't think of anyone I'd rather dress (OR ACT) like right now.
Hopefully if I keep wearing bike shorts some of her amazing ways will rub off on me.
And I really wouldn't mind if my son turned out a little bit like Harry one day.

Rebecca Hooton
Writer