Whether it's hi-vis worn head-to-toe, a light sweeping of eyeshadow on your lids, or just one of many colours mixed into your tie-dye sweatshirt, orange is clearly the colour of the season, as seen on the streets of MBFWA.
How will you work this tangerine tone into your look?
Mixed with metallic silver for a futuristic feel.
Styled with earthier tones and finishing with makeup that really makes it pop.
Mingled throughout your entire outfit, including your keep cup.
In the form of shades for that '70s feeling.
With a checked blazer to make it more professional.
As a top-to-toe tonal look.
With your staple sneakers and leather biker jacket.
Peppered throughout your tie-dye collection.
As a neutral with other earthy tones and animal prints.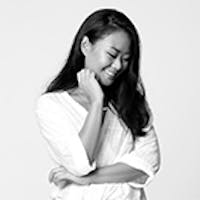 Eliza Concepcion
Editor