Not going to lie, it's week 2 of working from home for me and I've already given up on wearing pants. To clarify – underpants are still a daily essential but actual pants (trousers as some might say) have almost been made redundant in my usual wardrobe rotation. I say almost because there is the odd occasion where the delivery man will drop by, but even then, by the time I put bottoms on to answer the door he's already well on his way, and off come my pants.  
Instead, my morning getting ready ritual now revolves heavily around what I look like from the desk up. Nowadays I actually put effort into my hair and makeup (which is still pretty minimal) and focus on finding fun tops to wear that I can comfortably work in and look presentable when an impromptu video conference call comes up.  
What exactly classifies as a fun yet functional WFH top? Well that's simple. Statement sleeves for a start – they're always good for an extravagant wave hello when your work wife dials in and you haven't seen them for a hot minute. Pop colours also bring good vibes in this time of uncertainty. Ruffles, frills and bows will make you feel extra special even when you're calling from the couch. Anything goes, really, except of course for anything strapless, which tends to make you look naked if the camera angle isn't quite right!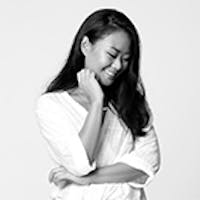 Eliza Concepcion
Editor