Gift-giving season is upon us, and while we often struggle to find the perfect something to make our loved one's day, it's important to remember that it's not what the gift is, it's the thought that counts. We spoke to Marisa Hordern, founder and creative director of luxury jewellery brand Missoma, about the gift that eventually inspired her to turn her side hustle into a full-time business now recognised globally and coveted by women all over Instagram. 
What led you to start a jewellery brand?
"You could say Missoma was born the minute that my mother gave me my first crystal at the age of five! My mother bought me a small piece of labradorite (the stone of imagination and intuition) and I quickly began spending all my pocket money on crystals and gemstones. I had these glass shelves in my bedroom which were filled with an array of different coloured stones. 
Years passed and I started making jewellery around my kitchen table, encouraged by my mother Michele and my sister Sophie, and I sold my pieces to local high end fashion boutiques. I'm the first person to point out that I've never had any formal training in design, but it was a passion that became my side-hustle. I was working in a very corporate environment at the time that just didn't fulfil me creatively – so I decided to take the leap to turn my passion for jewellery into my full-time gig. But as I always say, it takes 10 years to become an overnight success!" 
The brand's mission is all about inspiring confidence, sparking creativity and fueling collaboration – how does it make you feel seeing your designs on women around the world and tagged in new Instagram selfies every day?
"It makes my day, every day, as predictable as that sounds! To give people that same feeling from something my team and I have created means we're doing something right. I love seeing how people style their jewellery and how confident it makes them feel."
What has been the highlight of your business so far?
"When COVID-19 hit – and all the craziness that came with it – I thought "OK, this is either a sink or swim moment for us", as we shut the office and everyone went back home to continue working remotely. We all faced those challenging moments, but I was just so proud of how my team pulled together and created a whole new exciting chapter of Missoma; we were also reactive enough to try and do what we could for the communities around us that needed extra support. Throughout April to June we supported two charities both in the UK and India (where all our pieces are handmade) in feeding those who were going without meals due to the pandemic. We also designed a necklace to support our health workers here in the UK with profits going to their charity. For what has been one of the hardest years since we started, I'm incredibly proud of being in a position to use our business for good where we can, even if we only make a dent; it makes all the hard work along the way worth it to me." 
If you could only wear one accessory what would it be and why?
"I always think jewellery adds flair and that finishing touch to any outfit, whether it's jeans and a tee or something more dressy. If it has meaning because of who gave it to you, why you bought it, or when you received it then even better. Those memories, associations and good vibes make it so much more special and I always think jewellery is such a personal and meaningful accessory. A good pair of hoops go a long way and so I love my Baya hoops; they're statement but still everyday and they are inspired by some earrings that my mother had when I was growing up so I have such fond memories; if only I could be as chic as my mother though…"
And finally, what's the best way to take care of your jewellery to make sure that it lasts?
"We always go by the 'last on, first off' rule. Always store your jewellery pieces individually (we've got a jewellery case for that) so that they don't rub together, scratch or tangle. A top tip is to keep your chains fastened so they don't become tangled (or use a pin to try and detangle them if they do). Try to store them in a cool, dark place and avoid getting them wet if possible. We don't advise swimming in your jewellery as chlorine, sunscreen and oils can damage them over time. However, whether you're choosing between our sterling silver, gold plated or gold vermeil designs they've all been plated using electrolysis and rhodium plated to ensure their longevity and avoid tarnishing."
Fast delivery – free over $50 – and free returns.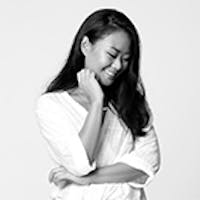 Eliza Concepcion
Editor