Whether your Valentine's Day plan is to dedicate some quality time with a long-term lover, a new flame, with your friends, or simply with yourself for some much needed self-care, this indulgent chocolate fondue recipe is the perfect dessert for date night. Easy to whip up ahead of time, all you need is a few ingredients, a splash of Baileys Irish cream liqueur (optional) and your favourite snacks for dipping to create a delicious, decadent and interactive dessert.
Ingredients:
- 200g dark chocolate 
- 150ml thickened cream 
- 3 tablespoons Baileys liqueur (optional)
- Strawberries, cherries, blueberries, biscotti, nuts, marshmallow, for dipping
Method:
1. Bring about an inch of water to a simmer in your saucepan. Set the heatproof bowl in the mouth of the pot, making sure the water doesn't touch the bottom of the bowl. Begin to melt the chocolate and stir occasionally as it softens.
2. Remove from the heat and stir in the cream. Whisk until completely smooth. Add in Baileys liqueur, to taste, and continue stirring until well-combined.
3. Pour into a bowl or fondue pot. Serve warm with strawberries, cherries, blueberries, biscotti, nuts, marshmallows, or your preferred snacks. If you want to keep it warm without a fondue pot, you can place the bowl over a candle holder – so romantic!
You can make this recipe in advance and can be refrigerated for up to a week and reheated in the microwave.
Fast delivery – free over $50 – and free returns.
Whisked Away is a series by food writer and enthusiast Georgia Bateman. Unable to travel like she used to, Georgia is dreaming of places and food from around the world. Her recipes are inspired by these destinations but not intended to be true representations of local dishes.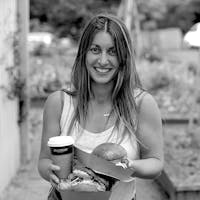 Georgia Bateman
Writer