After we tried and tested the feta pasta recipe that broke the internet, we simply couldn't turn a blind eye to the next TikTok food trend: Mexican-style corn ribs. Ready in under 20 minutes, these corn "riblets'' are bursting with tangy, chili and savoury flavours. This dish makes for a fun snack or side dish, and the best part is you don't have to invest in an air fryer – your humble oven will do just fine. 
Ingredients
Dry Seasoning
- ½ tsp cayenne pepper
- ½ tsp smoked paprika
- ½ tsp cumin seeds
- 1 tsp oregano 
- ½ tsp sea salt 
Additional Ingredients
- 3 ears of corn
- 50g butter, melted
- 1 tbsp olive oil
- 1 garlic clove, finely chopped
- small handful coriander, chopped 
- 1/2 Lime 
- Chunk Feta Cheese, crumbled (optional)
Method:
1. Heat oven to 200 degrees. 
2. Peel the corn, removing the husk and excess debris. Rinse and clean the corn, dry and set aside. 
3. Next, with a sharp knife, carefully slice the corn on the cob in half. Then, slice the half into quarters creating four "ribs" per corn. 
4. Add melted butter to a small bowl with the olive oil and stir in spice ingredients until thoroughly combined. The spread is ready when a smooth paste forms. 
5. Place corn riblets in an oven tray, and use a pastry brush to spread butter mixture over each corn riblet. Bake in the oven for 15 minutes. 
6. Once baked, spread any remaining butter mixture over each corn riblet for extra juiciness. 
Squeeze over lime, sprinkle with chopped coriander and feta cheese. Enjoy! 
Free delivery over $50 and free returns.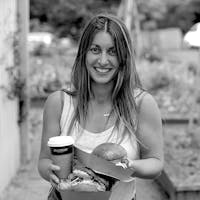 Georgia Bateman
Writer