Fudge makes perfect favours – for parties, weddings and showers – and is a delicious sweet treat that can easily be made at home in your own kitchen. The beauty of fudge is that it can be made in a variety of different flavours and colours. They can be cut into chunks or why not even shape them into hearts for your big day. DIY boxes to present them in are easily made and can be decorated with lace, hessian and ribbon – you can even make separate batches to gift to your bridesmaids and sneak in a little extra something to say thanks, like the matching earrings or makeup to wear at the ceremony. 
Ingredients: 
- 385g condensed milk 
- 150ml milk
- 450g demerara sugar 
- 115g butter 
Optional: 
- 1 tsp vanilla extract
- Handful pecans, chopped
- Handful chocolate nibs 
You will also need: 
20cm square tin lined with baking parchment
Method:
1. Place condensed milk, milk, butter and sugar into a large non-stick saucepan and melt over a low heat, stirring until the sugar dissolves.
2. Bring to a steady boil for 10 minutes, stirring continuously and scraping the base of the pan to prevent it from catching. 
3. The mixture should reach 113-115°C on a sugar thermometer if you have one.  If you don't you can drop a little mixture into a bowl of ice cold water – if it forms a soft, round ball that doesn't stick to your fingers then it should be ready.
4. Remove the fudge from the heat and leave to cool for 5 minutes. 
5. Stir in the vanilla extract, chocolate nibs and pecans. 
6. Beat the mixture until it just loses its shine and becomes very thick – around 5 minutes.  The longer you beat once it starts to thicken then the more crumbly the final fudge will be. If you like it smooth, beat it only until it comes away from the sides of the pan and sticks well to the spoon. 
7. Press into the prepared tin with the back of a spoon and leave to set before cutting into squares. For a more rustic, homemade look, leave to set in the fridge and then chop up when semi-hard – this will allow the fudge to break away into chunks. 
The fudge will keep for up to 2 weeks in an airtight container at room temperature.
Fast delivery – free over $50 – and free returns.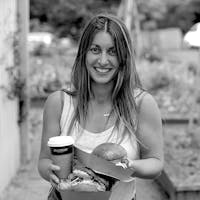 Georgia Bateman
Writer