Whether you see the bedroom as just a place to catch some uninterrupted shuteye or it's your most lived-in room at home, your own space to spend hours chilling in – every bedroom should feel like your own personal sanctuary. To celebrate the launch of THE ICONIC Home, we asked interior stylist Steve Cordony to share some easy tips to refresh and elevate the sleepy little areas of any home.
Begin with bed linen.
It's the hero piece of furniture in the room so it makes sense for it to be the first place to start when creating a sleep sanctuary. Steve Cordony says, "The first thing we want to do within the bedroom is create a really decadent bed." When you slide into bed, you want it to feel luxurious, so start with really crisp linen from IN BED. A fitted sheet and a flat sheet in plain white is a timeless option that will work with any space. Then add a clean duvet in a size large enough to hang over the bed, but not so that it hits the floor. "I love these tassel details which adds that effortless look," Steve says of IN BED's striped linen duvet cover. 
Throw some more.
To create that lived-in appeal and visual texture, give the top of the duvet one rollover for extra height and a layer effect, then add some throws. "To make it feel really layered and textured I like to add not one but two throws. This beautiful grey Saardé throw pairs back with the neutral palette we're going for in this room. I'm going to place it lengthways and tuck it under the duvet foldback. And because I love throws, I'm going to add another simple throw, which has a stripe, to the end of the bed, leaving a little bit of space between the first throw so you can see the duvet, and making sure it stops short of the end of the duvet so it creates that nice little lineation, which is still quite relaxed but still tailored." 
The limit to pillows does not exist.
Pillows are not only practical for creating a more comfortable space, they also provide a way to introduce colour and texture. "With pillows, I always like to have sleeping pillows first, which match the fitted and flat sheets, then I add the matching pillow cases to the duvet with our cover pillows. The last element to add to a bed is scatter cushions. A couple of colours which still work back tonally but have interesting textures, like fringed edges, are a nice way to introduce more colour – in this case, teal and denim." Arranging them with a slight lean, as opposed to sitting upright, will add to that effortless, relaxed feeling. 
A little something on the (bed)side. 
Complement your bed with things that tell a story. According to Steve, "Bedside tables are really simple to style if you use a few key ingredients." Bedside books in coordinating colours which tie back with your bed linen will create a cohesive look. A simple floral arrangement will add freshness and life. And a scent element, like a fragrant candle, your favourite perfume or a scent diffuser, will add a personal touch to your area, "it's a really nice way to add some personality into your bedroom space," Steve says. 
Space to recalibrate.
If you've got the room for it, having a dedicated area for a chillout zone will complete your sleep sanctuary. "Whether you've got room for an arm chair with an ottoman or just a simple chair where you can add a matching pillow is a really nice way to create a cool chillout zone. If you've only got a dresser or a cabinet within your bedroom space, it's a really great way to create a little styled moment that's also quite practical. Adding a great piece of artwork just resting against the wall, and a really cool retro record player or some sort of musical element, is perfect for creating that mood. Adding some matching floral arrangements, a scented candle, or some fresh greenery like a plant, are great ways to introduce some life into a space. These little details create not only a great styled moment but it also tells the story of the overall scheme of the bedroom." 
Free delivery over $50 and free returns.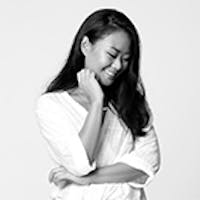 Eliza Concepcion
Editor