When Tash Sefton recently shared her #ootd – something she does on an almost daily basis – it was met with irritation and criticism of her caring about something so frivolous in this time of pandemic. Her response? Not shame, but a measured consideration that getting dressed, and the act of choosing what to wear, is a positive, and even necessary, thing she does for herself. 
I hear that. After a month of ill-timed leave, fortunately, I was able to return to work this week and felt the need to peel off what I've dubbed 'the daytime pyjamas' and get. Dressed. So is there something to this feeling? Time to get some expert opinions. 
Dr Aileen Alegado, Clinical Psychologist and author of 'Coping through Covid: Survival Guide' explains, "Our brains associate activities with a mindset. When we get dressed for work, we help our minds get into the mindset of working – which is what we want to be productive when working from home, similar to being in the office … Dressing according to what you need to get done helps with motivation, so if you're intending to do exercise, put your gym clothes out first thing so the association and intention is there... then the more likely you are to achieve what you want to do."
Perhaps that's why we've seen many of you join in with #isobutmakeitfashion, THE ICONIC staffers' fashion challenge, nominating others in lockdown to join them in dressing in their finery and snapping it for social. The hashtag connects friends, colleagues, fashion industry insiders and influencers, wearing everything from sweeping dresses to housebound heels. "It's important to dress to impress – yourself!" Clinical Psychologist Dr Barbara Rysenbry says. "Taking the time and making the effort to dress yourself in a way that reflects your self confidence, personality and professional identity is about valuing yourself and what you stand for. Getting ready for work can also be seen as part of a preparation ritual, so when we sit down at our home workspace our professional selves are 'on' and ready to go."
So dressing the part for work is not purely about your employer's expectations, but a legitimate, subconscious switch into 'business mode'. 
As THE ICONIC customers, your buying habits have been fascinating of late. Initially seeing spikes in performance sneakers and sweats – understandable, you're self-isolating at home or getting your daily exercise – to a peak in lingerie over Easter weekend (hello!). Google also reports increased searches for unisex clothes and bodysuits, suggesting that we're adapting to our 'new normal' and getting pretty comfortable with it. 
But before we get too snug, is there a connection between our WFH uniform and productivity? Is staying in your pyjamas healthy when sleeping and working under the same roof? 
Dr Alegado explains that sleepwear "changes your mindset to being more relaxed, thus making it harder for the parts of the brain to turn on, such as concentration and motivation. Inversely, we also want to be able to use our pyjamas to signal the end of the day and wear during relaxation. These positive associations are good for us to create boundaries in our minds of what are expected of us in the absence of real physical boundaries."
Dr Rysenbry agrees that pyjamas send signals about relaxing into sleeping, "leaving behind the efforts and challenges of the working day, freeing yourself from problem-solving and task completion." Save the PJs until the lead up to bedtime and use them as our signal to switch off. 
So what else should we be doing to help our minds differentiate between online and offline? Dr Rysenbry recommends, "Structure your day as you would if you were physically going to your usual work. Commence work at the time you normally would, and make sure you take breaks mid-morning, lunchtime and mid-afternoon. Being in normal working environments provides opportunities for distraction, movement and social interactions that working from home may not, so you may need to set timers to make sure you get up from your desk, move, stretch and take those breaks. If you can, move your body and allow your mind to disengage for a brief time, go for a walk, eat, hydrate, find an opportunity to ground yourself in the present through a short mindfulness break. At the end of your working day, change out of your work clothes, exercise, go for a walk, do a mindfulness exercise – something to provide a barrier between your work day and your leisure day. It's also very important that you have a healthy sleep routine which includes getting up and going to bed at the same time each day." 
"Interestingly we can use our clothing choices to help create structure in our day. So perhaps delineate your usual working day into three or four clothing zones: the work zone, the relaxation zone, the active zone and the sleeping zone. Set up a timetable to do those activities within your day or week. Of course, once we can socially engage again there will be a whole range of opportunities to dress for the activities we have been missing. You can also create casual days or formal days just for fun and variety."
Research supports the hypothesis that getting dressed is not only a personal thing that makes you feel more together – it also impacts your results. Studies show that wearing 'formal' attire, such as suiting, may improve cognitive processing and even increase successful negotiation outcomes. "Our minds are powerful association machines and we tend to respond to the cues and habits we have learned," confirms Dr Rysenbry. "Lockdown at home has removed some of the routines we normally perform to go to work each day – we don't have the familiar work environment and people around us as cues to keep us focussed and on-task."
Dr Alegado suggests that, even if you are not currently working full time, it's beneficial to "create a routine of when you will do activities for the day. Think of the word PEAR – Pleasurable activities (something you enjoy), Exercise (some form of physical activity), Achievement (tasks that would make you feel good having done them, e.g. housework, working on your CV, paying bills) and Rest (a period of relaxation and downtime). You can create a balance of these activities even when you're not working which will help your overall mood and motivation."
An ideal itinerary? "Start the day with a quick practice of gratitude journaling or meditation, get dressed like you would for work and perhaps mimic a walk around the block (as if you're commuting) before starting your day at your desk. Create a plan for meetings and breaks ahead of time and clear priorities of tasks you need to achieve in a day. Finish the day at a time you should and perhaps plan for a workout (similar to people going to the gym at the end or beginning of the day if that is what you do). Do some sort of physical activity to move your energy from sitting down all day before you start to get ready for your evening routine of "home time" and planned relaxation."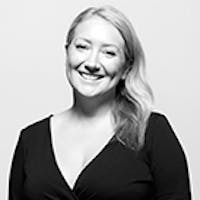 Kate Tregoning
Features Editor