Mercedes-Benz Fashion Week Australia has officially begun and as much as we're keen to see what the designers have in store for us, we can't help but be distracted by the goings on outside the shows. Sydney's street style game is definitely up there with the other fashion capitals of the world so we wrangled together the most stylish line-up and got them to spill their Fashion Week secrets and what they're looking forward to seeing most over the next few days.
Ashley Schuberg aka @miss_gunner
"This is pretty much my usual style. I wear a lot of blazers, shorts, and skirts, with heels always. But my go-to accessory that I always bring to fashion week is my battery pack! My number one tip for anyone starting out as a blogger is be authentic, be yourself and stay true to what you stand for."
Jessie Khoo from @jessie_khoo
"I'm looking forward to seeing people's interpretations of everything. I love seeing the variations that people come up with and love seeing how creative people get with their styling. I actually have six outfits for the week but my favourite thing I'll be wearing is this look."
Larry Lim aka @thesimplegentleman
"I'm looking forward to streetwear really – all the different and unique styles that people wear to the shows. I think people will be layering up because it's getting cooler, but for guys I think it'll be more simple. I'd love to see more Pitti Uomo style being represented here in Aus. I think it's definitely happening but I'd like to see more of a pop of colour."
Jessi Webb aka Yellow Hats from @jessiwebb
"Honestly, I'm excited for all the shows but I'm definitely more into the street style. That's what Fashion Week has changed into these days, it's literally just coming in to see what everyone is wearing. My tip for anyone who is experiencing this for the first time is to have a look around, meet new people, and talk to everyone – that's one of my favourite things."
Dasha and Colin Gold founders of @thetrendspotter
Dasha: "I love all our Australian designers but we're really looking forward to seeing Bianca Spender – she's got a beautiful personality and gorgeous collection – and Alice McCall – I always love her show. It's also exciting to see what Sydney will bring for street style. Not everyone follows the same trends in Australia compared to the rest of the world and a lot of designers and celebs are inspired by Australian fashion. "
Colin: "This year I've gone for more of a street look with raw denim, bit more oversized clothing with a relaxed tailoring kind of vibe. The preppy look is a bit overdone and I think it's nice to feel more relaxed."
See the full lookbook for more Mercedes-Benz Fashion Week Australia action.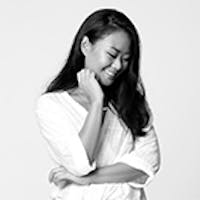 Eliza Concepcion
Fashion Editor