Day two of Fashion Revolution Week is all about asking #whatsinmyclothes, so we asked Alexandra Peters, THE ICONIC's Sustainability and Ethical Sourcing Coordinator, to clear up some of the language used around the Considered value, 'sustainable materials'.
Explain to us, what does 'sustainable materials' mean?
"The Considered category 'Sustainable Materials' highlights products which are made from a material which has a lower environmental impact than the conventional alternative. This could be, for example, because the material is made from recycled inputs diverting waste from landfill or uses less energy, water or chemicals to create. This doesn't mean they are perfect or have no impact, but there is a lesser impact on the environment associated with growing or making these materials."
Right, gotcha. As a business, why is it important to offer more 'sustainable materials'? 
"As a retail business, the product we offer to customers is one of our most significant environmental impacts. In fact, 65 per cent of THE ICONIC's carbon footprint comes from product manufacturing. By using more sustainable materials, businesses can actively reduce this impact while still offering a compelling and diverse range to customers. 
"By 2025, THE ICONIC's targets are to have 90 per cent of own-brand or private label units made from more sustainable materials with 50 per cent of THE ICONIC's entire product assortment meeting at least one Considered credential."
And as a customer, why is it more important than ever to look out for 'sustainable materials'?
"The Considered edit enables you to shop by your own personal sustainability values; if having a lower environmental impact is important to you, then you can choose items using the Sustainable Materials filter. With over 6000 items made from more sustainable materials to pick from, you can reduce your environmental footprint without compromising on style."
So these aren't always the brands you'd expect?
"Not at all! Some products included are from Ginger & Smart, adidas, Wicker Wings, Bec + Bridge, Feather Drum, Ancient Greek Sandals, P.E. Nation, Assembly Label, Converse, Vans, Filippa K, Fossil, Gorman, Etre Cecile, the Critical Slide Society, Tommy Hilfiger, Wood Wood."
Getting into the fabrics, what do you define as recycled polyester? 
"Polyester is a synthetic material, made from plastic pellets. These pellets, which are heated and transformed into polyester threads, can be made from recycled plastics, including plastic bottles, textile waste and even old polyester clothing."
And what is lyocell?
"Some natural materials are made from wood pulp, such as pine trees or bamboo, which is transformed into threads using chemicals and water. Lyocell is usually made from eucalyptus trees, which are fast growing and less likely to lead to deforestation, and is transformed in a 'closed-loop system': this means that the water and chemicals used are all recycled or reused to make more lyocell and are not wasted or leaked into waterways."
Why buy organic cotton over regular cotton?
"Cotton is one of the world's most pesticide and insecticide intensive crops to grow. Organic cotton is grown without the use of pesticides, fertilisers and genetically engineered seeds, making it a less impactful choice than conventional cotton for the environment as well as the communities where organic cotton is grown."
What's the depth of the range tagged under 'sustainable materials'? 
"Today there are over 15,000 skus in Considered (up from 6000 at launch last year). Of this, 6564 are included in the Sustainable Materials category (44% of Considered skus)."
Cheat sheet
Looking for… FSC Certified Viscose
The low-down… The Forest Stewardship Council promotes responsible forest management internationally. This viscose has been sourced from forests that are neither old growth or hosting fragile or endangered ecosystems. 
Find this by.... Ginger & Smart, Boody, Bamboo Body, (some KITX, Peony & Gestuz)
Looking for… Leather Working Group certified Leather
The low-down… All of these brands are Leather Working Group certified. Leather from certified tanneries is manufactured with lower environmental impacts, including less water & energy usage. 
Find this by.... Fossil, Timberland, Nike, UGG, Vans, Bellroy, Blundstone
Looking for… Recycled Polyester
The low-down…  Recycled polyester is a very diverse material, used in products from Adidas leggings & Patagonia outdoor jackets through to Ena Pelly faux fur Jackets and Teva sandals.
Find this by.... Adidas, Crumpler, Ena Pelly, Peony, Nimble Activewear, Patagonia, Teva
Looking for… Renewed Materials
The low-down… Reusing existing resources, such as upcycled materials or vintage clothing, is a great way to reduce your environmental footprint. Nudie's Re-Use range offers pre-loved jeans that are washed, repaired and ready to wear. 
Find this by.... Nudie, Soulland
Looking for… Lyocell
The low-down… The chemicals and water used to create lyocell are all recycled or reused, and are not wasted or leaked into waterways.
Find this by.... Bondi Born, Nico, Ministry of Style, Forever New, Nudie Jeans.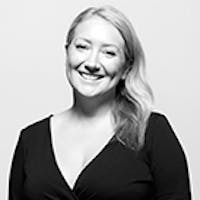 Kate Tregoning
Features Editor