If there's one thing fashion stylist and content creator Tina Abeysekara knows, it's how to pick well, style often. Okay, so that might *technically* be two things – but if you can nail the first, the second comes easily. It's a mantra Tina uses to guide her own shopping, and shares with her 161k Instagram followers too. Her eye for spotting fashion gems and wearable trends has cemented her status as a true style influencer, and this shines through in the Atmos&Here X Tina collection. 
Designed in collaboration with Tina, the Atmos&Here X Tina collection features two edits to help you curate the ultimate spring (and forever!) wardrobe. The Secret Garden range heroes sun-kissed styles inspired by Tina's love of spring florals, while the Workwear Essentials range offers a capsule of office-friendly pieces that can be effortlessly mixed and matched. 
We took five with Tina to talk this season's top trends, taking your look from day to night, what she'd wear to a spring wedding and more.
What are your favourite ways to refresh workwear for spring this season? 
Colour and soft silhouettes! In winter we naturally lean to darker tones and layers so it feels really refreshing to bring in some softness through statement sleeves and floaty fabrics with pops of muted colours that work well paired back with workwear staples.
What makes the perfect spring TOAG (Throw On And Go)?
Elevated colours and prints to bring interest, weather appropriate fabric (linen/cotton blends), combined together in an easy to throw on (no tricky bras or shapewear needed!) design. The perfect way to look put together and comfy!
What failsafe spring outfit takes you from day to night? 
The Jasmine Linen Blend Dress in Poppy Red! Perfect shade of red for many skin tones and pairs well with white or tan accessories for day and black, metallics for night.
Your favourite colour and print trends this season? 
Don't make me choose! But it would have to be the Pretty Poppy print! Such an easy to wear, sweet and delicate print that fits perfectly with the Secret Garden theme.
Your top three treasures from the Atmos&Here X Tina collection? 
The Jasmine Dress, the Dahlia Blouse (perfect for work and play!), and the Calla Suit.
Complete this sentence: "Florals, for spring?..." 
Always groundbreaking!
What are you wearing to: 
Brunch? 
The Jasmine Linen Blend dress! It really is the perfect TOAG (with pockets!) to take you from brunch and beyond.
A job interview? 
The Calla Suit in dusty blue! Such a standout colour but still professional.
Spring wedding? 
So many options! Either the Primrose Linen Blend Midi Dress in any of the colours and prints OR the suits! The Calla Suit for day-to-night or the Clover Suit for a day event.
Date night? 
The Freesia set! Cute and elegant at the same time. Customise to you by wearing off the shoulder or puffing up the sleeves. 
Fast delivery – free over $50 – and free returns.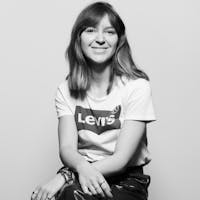 Sarah Swift
Senior Copywriter