Unfortunately, due to COVID-19, Mercedes-Benz Fashion Week Australia has been cancelled this year. Set to celebrate their 25th anniversary, the global event has played a pivotal role in the fashion industry, giving local designers, like Romance Was Born, the opportunity to showcase their upcoming collections. Instead, they've been running Fashion Week Interrupted on their @fashionweekaus instagram channel, featuring messages from key members of the fashion industry about the week that would have been. In support of this, we thought we'd share an insight into what Romance Was Born designer Anna Plunkett has planned for the future.
Tell us a little bit about your collection?
"Our latest collection is in collaboration with artist Samuel Hodge. We have worked with a selection of his collage based photographs that conjure up ideas of nostalgia and holidays."
What were you thinking about / listening to / watching / vibing while it was in the works?
"We were listening on high rotation the Bat For Lashes latest album 'Lost Girls', it has such an eclectic mix of inspirations that really resonates with us, especially being kids of the 80s. She was also releasing her single film clips, in which she used one of our archival dresses in. We love Natasha Kahn's unique way of presenting her ideas through music and film. For 'Lost Girls' she describes it as an album for driving in the dark; holding hands at sunset; jumping off bridges with vampires; riding your bike across the moon. It's very much how we imagined our girl for the collection."
When you think of the Romance woman, what's she doing?
"She could be doing so many things… but hopefully she would be wearing her favourite Romance Was Born piece, maybe it's something from one of our earlier collections that she treasures and she's worked it back with some great accessories, and she's feeling really switched into her creative self… ready to take on whatever the day throws her way!"
What are you wearing most from your current collection?
"I've been wearing our pleated Lacy Gardens blouse and skirt combo, I love this print so much which was taken from a portrait Samuel took of Steve Lacy the musician and producer."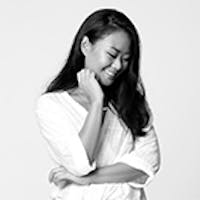 Eliza Concepcion
Editor