If you've ever stumbled upon @sarahellen on Instagram, or maybe you've bumped into her IRL looking fresh-faced at Fashion Week or the trendiest spots around Sydney, and found yourself wanting exactly what she's having – good news, now you can. Lancôme has arrived at THE ICONIC and we've got everything this homegrown model and actor swears by. Watch her video where she reveals what she loves about Lancôme, and read on for more expert tips on how to get the most out of everyone's cult favourite: Lancôme Advanced Génifique.
Sarah Ellen knows good beauty isn't only skin deep, "Every product makes me feel different; Génifique makes me feel comfortable in my skin, Hypnôse makes me feel powerful, and Idôle makes me feel confident." But if she had to pick one that she couldn't live without, "I'd have to say Advanced Génifique, because without it my skin wouldn't be so smooth. I love the feeling of applying Advanced Génifique because I know I'm going to glow afterwards. I love how smooth it feels on my skin, it just glides right on – it's calming."
She's not the only one with a glowing review for this wonder serum either. Lara Srokowski, Director of Artistry for Lancôme Australia also swears by this 'little black bottle of magic' adding "Advanced Génifique is a universal product that absolutely everyone can use. It doesn't matter your skin type, your age or skin concern. I always say it's like a little black dress that's a staple for the wardrobe, it looks great on all shapes, all sizes and all ages. Advanced Génifique is that little black bottle for your skincare routine."
An expert in the field of all things beauty, we asked Lara to share her tips and tricks for applying the iconic anti-aging face serum, and exactly what makes it so unique.
"Advanced Génifique uses seven pre and probiotic fractions which help to strengthen your skin's microbiome. You can think of your skin's microbiome a little bit like your skin's living ecosystem–when we have a strong, well-balanced microbiome, it means our skin can better defend itself, it can recover a lot quicker, and the overall quality of the skin looks much healthier. It also contains a high concentration of hyaluronic acid, so it's extremely hydrating.
"I recommend integrating Advanced Génifique after you've cleansed and toned, if you use a beauty essence then after your beauty essence, as that first step to a moisturising routine. Think of it like a primer for your skincare routine. The self loading dropper delivers the perfect amount of product – use half for the face and half for the neck. 
"You can also use a little bit with your makeup, mixing a drop into your foundation or on top of foundation. I mix a small amount of Advanced Génifique with my Lancôme Teint Idôle Ultra Wear Foundation – it manipulates the texture of the makeup and makes it a little more natural, lightweight and glowy on the skin. You can also use Advanced Génifique over the makeup – as we did backstage at Fashion Week right before the models hit the runway – simply tap a little bit of the product on those higher points of the cheekbones to capture the luminosity and give that beautiful glass-like glossiness to the skin. 
"My beauty secret is that you can also use it on the lips. Because of the hyaluronic acid, it has a great plumping and hydrating effect, so you can put it on before your lipstick, or you can put it on top for a glass-like glossy finish." 
Fast delivery – free over $50 – and free returns.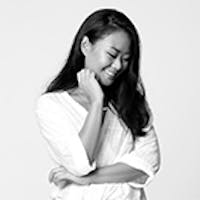 Eliza Concepcion
Editor