Jan Denecke from Humming Puppy has been teaching yoga for 14 years and the practice has brought the Dutch national in touch with both teachers and students from all over the world. "It has expanded my horizons. Through yoga I travelled to India, Bali, Thailand, Japan, Europe and the USA, and even brought me to Australia." 
We asked him about the benefits during this time, and why being present is more important than ever for our mental and physical health. 
What is the most rewarding thing about teaching? 
"Life is the practice for me and that is so well reflected in my yoga and meditation practice. What I loved when I finished my first yoga training was that it was evolving and never ending."
"[The most rewarding thing is] that I get to experience the alchemy of exchanging energies in a class through movement, breath, meditation. Something magical is being created in a class where instructions become an experience for each individual and the whole group. It is a moment of complete synergy with each individual's spark."
Do you see mental health benefits to yoga as well as physical? 
"Yoga offers a great mental connection. When we are physically more aware, we have an entire landscape in which we can rest and retreat. Through physical awareness we can more safely explore our mental state and learn to improve and increase our narrative of how we feel. Things become less unstable as our state of mind is inclined to observe and listen. I volunteer for an organisation called Mood Active that offers people with anxiety and mental instability exercise programs including yoga. Besides this I also work one-on-one with clients and organise men's yoga circles where I incorporate mind and body coaching therapies and aspects from yoga, mindfulness and somatic. I have seen the benefits and the improvement in people's health so yoga is a great form of support for mental wellbeing."
What should we be wearing for yoga? 
"I look for comfort and durability. Half of the time I wear flexible clothing and sometimes several sets throughout a day. This also means that my outfit is multipurpose – good for a day in the park, in the yoga studio and for lunch or informal dinner. I tend to look for different layers so I can adjust towards the season."
"In the studio, wear something in which you can sweat, which is comfortable and fits like a second skin, and full-length tights. The comfort really lies in not being too loose and not too tight so you can breathe but also don't feel that your belly is exposed and your face covered with a shirt when you're upside down. Stretch is important since yoga poses can be quiet opening in the chest, shoulder and hips. You must live in flexible clothing."
"[From this Nike yoga range] I love the design of the shirt with a centred seam on the front. The material is soft, almost like silk, and I felt really comfortable and spacious enough to do some deeper poses. I love the colour of the shirt in combination with the shorts. It really stands out but also has a calm and grounding tone."
What are three things budding yogis can do? 
"1. Show up for yourself in your practice and in life. 
Yoga offers a conscious reflection on how you perceive and respond to life. It asks you to investigate yourself on a physical, mental and emotional level and helps you to see and change patterns of behaviours and responses that might inhibit you to fully explore and enjoy life. This enquiry is worth showing up for. 
2. Do not compare: no one is the same, you are unique on every level of your being. 
Comparing yourself with someone else's practice is robbing yourself of your own richness. 
3. Be consistent: commit even if it is not always blissful or nice. 
Learn to develop and recognise the insights of wisdom and growth that this offers you."
Fast delivery – free over $50 – and free returns.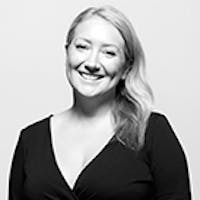 Kate Tregoning
Features Editor