Listen, Fifty First Dates has nothing on me. I've been on a lot of first dates. A lot. Clearly I like the thrill of that very first frisson so much that I want to repeat it forever.
While I may not be qualified to preach about the key to a long and lasting marriage, oh boy am I in a position to talk about first dates. Specifically, dating etiquette. 
It's minefield out there, especially in a post-Covid world, but it's also so exciting – you exchange messages, you agree on the time and place, you get all dressed up in something that makes you feel your best, shiniest, wittiest, individual self. And once this time in your life is over, that specific thrill will be shelved for a while, so there's nothing left to do but enjoy it.
This could be the meeting of your person. (It could be the meeting of a fun-for-now person. It doesn't matter which.) So let's give first dates the respect they deserve with a few guidelines to ensure an even playing field and the best night you can remember since … well, last Friday's.
Of course these are hypothetical and definitely haven't all happened to me…
1. Be on time or be in contact
Everyone's already slightly nervous without dangling the possibility of a no-show. In my opinion it's not the end of the world to be running a few minutes late as long as you've communicated that to the person waiting for you so they're not in the dark wondering whether the wait staff are placing bets. 
2. Don't tell them you've just come from another date and that is why you are late.
File under: things that definitely haven't happened to me on a date. 
3. Don't offer to pick up pick them up
This might be a gesture of kindness and your love language might be acts of service but think about things from this stranger's perspective and think safety first – meet somewhere neutral, public and on neither of your 'turf' so your mate Jamie doesn't come over to chat about the footy. 
4. Speaking of your mate Jamie, don't bring him.
Okay this one didn't happen to me but it did happen to a friend. Unless otherwise specified, the date is between the two of you. Put your big pants on and go it alone! 
5. Offer to pay your way
One of you may insist on getting the bill, which is a kind and generous gesture, but it's 2021 so expect to split everything fairly in half or pay for what you ate or drank. Dating can be an expensive exercise and one that you both agree to take part in, plus it shows you're there for the right reasons – to meet a true partner, not the free drink. 
6. Keep your phone away
Definitely message your friends to tell them where you are going and who you will be meeting, text when you get there to say you are okay and then turn your phone over or put it in your pocket or bag. Unsurprisingly, it's poor form to be constantly checking for other matches, what's going off in the group chat or how many likes your last Instagram post got. 
7. Do not talk about your ex
Unless specifically asked – in which case still keep it very top-line until a future date – nobody wants to hear about how you and Sophie decided who got to keep the cat. Everyone's got a past but clinging onto it when presented with an attractive new potential partner is not sexy and this meeting is about nobody else but the two people facing each other. 
8. Do not 'splain anything (mansplain or otherwise). Don't. 
9. Keep politics off the table
You want to be on the same page on world issues and what's surrounding you in your community, but there's no need to debate what went wrong with the last Prime Minister. See also "the pandemic". My personal rule is that the C word is banned.
10. However, DO get to the big questions. 
Nothing morbid that's going to induce an existential crisis at the table, but a few "would you rather" dilemmas can tell you a wealth of things about a person and is a lighthearted way to suss their sense of humour. 
Good luck out there!
Fast delivery – free over $50 – and free returns.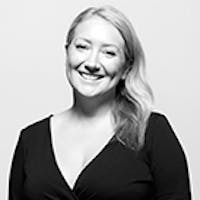 Kate Tregoning
Features Editor