Social distancing and isolation will have a hugely positive impact on containing the spread of COVID-19. We all play an important part in this and it's important that we all do our very best to stay at home. While it might seem easy to prop yourself in front of the TV or scroll your phone mindlessly for hours on end to distract yourself from what's going on in the world, consider how you can use this time inside to better yourself and do things you wouldn't normally do. It's unclear how long this might last, so we've come up with just a few useful ideas to keep you preoccupied.  
1. Do that task you've been putting off for ages – chances are it probably won't take as long as you always thought it would
2. Learn to speak another language – Duolingo can teach you to say super easy and essential phrases Indonesian, Spanish, Italian, Hawaiaan and more in next to no time. 
3. Learn a TikTok routine – it's not exactly 'useful' but it'll keep you moving and it'll make you laugh
4. Host a dance party – share a playlist with your friends and sync up online or do it solo
5. Practise meditation – it'll help if you're feeling anxious about the current situation
6. Phone your friends and family members – keep in touch (virtually) because we're all in this together and we all need help staying sane
7. Tidy the house – you've got no excuse not to and you'll feel much better once you do
8. Take a short tech break – staying online is important, especially to keep up with the news, but consider taking regular breaks to rest your eyes and your mind
9. Sort out your wardrobe – you never know what goodies you might have forgotten about. And for the styles you definitely want to forget, if they're in good condition, send them our way through Giving Made Easy
10. Learn to mend your clothes – that tiny hole in your favourite sweater can be fixed, that button can be reattached and that sauce stain can be covered with a little clever craftsmanship
11. Play dress ups – trust us, it's just as fun as it was when you were a kid and it'll be a nice mood booster especially if you can't remember when the last time you changed out of your trackies was
12. Learn a new hairstyle – maybe try mermaid hair if you haven't already, but please, put down the scissors and don't do anything drastic
13. Do an at-home workout – staying active is an important part of staying healthy, just remember to take it slow if you're not sure
14. Read a book – you can download novels online if you don't have access to any
15. Organise your image gallery – backup all the important pics, like holiday snaps, and delete all the useless stuff, like the million versions of the same selfie
16. Play a game – keep your brain stimulated with games that you can play solo, and stay social by inviting friends to play online
17. Sort your beauty cabinet – throw out anything old and expired and play around with makeup even if you've got nowhere to go
18. Clean your makeup brushes – make this one a regular habit
19. Work on your posture – especially important if you're working from home or you've just spent hours on the couch
20. Stretch – stay limber. You don't need to be able to do the splits but a few light stretches every now and then is better than nothing
21. Relax – it's a stressful time and it'll take a toll on your body and mind if you're not careful. Learn to appreciate the importance of self-care and while it's a good time to pick up new hobbies and not lose productivity, remember that it's also a good time to take a second or two to just breathe.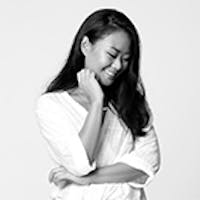 Eliza Concepcion
Editor