A margarita with friends on the other side of town and nobody has to order an Uber? Sign us up! At first, lockdown brought the shiny newness of virtual catch ups and on-screen meetings. We put on our best top, did our hair (kind of) and logged in for many a Houseparty, Zoom trivia night, happy hour, family FaceTime and virtual yoga sesh. But now, five-ish weeks in, is the novelty wearing off? 
Diligently following the physical distancing requirements – we're flattening that bloody curve! – most of us have made peace with bunkering down until the storm has passed. So, we hop online. 
The convenience is hard to deny. Video apps have been life-changing in enabling flexible working from any location, not to mention bringing the whole world closer to us. When I moved to this country almost seven years ago, messaging apps made living away from family and friends a viable option. Today, technology has come leaps and bounds – we want to see the reactions on each other's faces as we share our news in real time. 
The burnout, however, comes from the constant need to be 'on' during a video call. You are aware that you're visible, head-on, and conversation needs to flow, pretty much constantly, to avoid static moments of awkwardness. Even among friends, you're unable to just 'be' in the same way you could when hanging out in the same location. But, there's often no delicate way to decline an invitation and let's face it, everyone knows you're home. 
Experts say that the psychological drain is married with the physical element of sitting in a perhaps unsuited chair for longer periods of time, and if it's work, maintaining appropriate posture to converse on screen. See also: lying on the bedroom floor. The excessive blue light exposure and back-to-back meetings can also make it harder to wind down at night and get the full eight hours. 
"You are likely to feel a kind of exhaustion from that screen time that's unlike the exhaustion you'd feel from an hour at the gym," writes Suzanna Degges-White, Ph.D. for Psychology Today, calling it "high-intensity virtual connecting." Sheesh. 
And for many of us, "high-intensity" is right. Just because it's a mostly mental workout, not a physical one, doesn't make it any less real. So what do you do when another Houseparty with mates becomes a chore? 
Here are some boredom busters that don't require a screen…
1:1
Exercising with one friend or trainer, at the safe, recommended distance of 1.5 metres can break up the day and means you can debrief in the real world.  Australia and New Zealand are blessed with a plethora of wide open spaces and in town, always opt for the deserted back roads.
Go old school
Remember the art of letter writing. Find some card or paper and pen a note to a friend or relation. Aside from the time it takes to write and patiently waiting for a response, there's something so nice about receiving something personal in the mail. 
Meet the neighbours
Crack open a cold one over the fence and get better acquainted with the people who live around you. You already have living in the area in common. Heart-warming stories of neighbourly kindness have been bringing us hope during the last month, with tenants in the same buildings dropping off their favourite wine recommendations and takeaway. 
Accept the challenge
From toilet paper keep ups to flipping on a medicine ball, there are infinite challenges flying around the internet to inspire you. Research shows that our brains are stimulated by the act of repeatedly making an effort to achieve one goal, so try, try and try again until you're successful, knowing that you're giving your mind a workout in the process. 
And if you can't log off, some blue light busters might help your eye strain.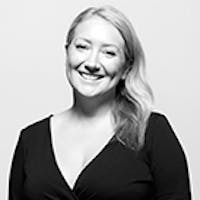 Kate Tregoning
Features Editor