Shunting the 'big' out of some couples' big days, in the last year, restrictions on gatherings and travel have made us rethink everything, including the way we wed. Those who couldn't wait, didn't want to wait or saw an opportunity to scale back, rustled up something chic, more intimate – and just as special. A pared-down event that's been coined the 'micro-wedding'. 
And now, thanks to a combination of headcount restrictions, changes in working arrangements and a reevaluation of life's priorities, the micro-wedding is on the rise. 
Ariana Grande took her nuptials to the backyard this week, while Lily Allen recently swapped a reception for a celebratory burger at In-N-Out.
According to wedding-centric brands, shrunken nuptials were already gaining traction in 2019, with couples eloping or tying the knot in front of a small group of friends or family. So can we attribute mini weddings only to having our world upended in the last year? 
In blissful pre-pandemic days, Fiona and Nick eloped with just two friends as witnesses.
"We were overwhelmed by decisions and choices. Get married in Australia or at home in England. Big wedding versus small wedding. When is a good time? Guest list, budget etc, etc, and we just got over it."
Limiting the deluge of decisions is one massive plus.  "I felt very strongly that it should be enjoyable and fun and didn't want the planning or for it to take over our lives," Fiona says. 
"I can't remember whose idea it was or how it even came up, but we decided to strip it all back and get on with it quietly. We secretly chose a date for three months later and booked a celebrant that Nick found online. We told a few of our close friends, and our families, a couple of weeks before the date but that was it. It succeeded in taking the stress out of it and it felt pretty freeing to have something so low key but still special."
Having a schedule-free day invites the fun of the unexpected. "We only had the time of the actual ceremony and a dinner reservation – everything else was playing it by ear. A random band turned up at the restaurant – they weren't booked, they'd just stopped for lunch – and the venue asked if they could play so they became our wedding band!
"At the bar buying drinks, as people realised it was a wedding they would insist on letting the bride through. That's what made it really, the kindness of strangers wishing us well and the unplanned things like an impromptu swim in the afternoon."
As well as being one of the most stressful life events you'll ever plan, a typical wedding is also expensive, and for many it comes down to outlying a vast expense versus having control over what you splurge on – a fancy meal for close friends, a talented photographer, or a really special outfit.
Newlyweds Gino and Daniela chose to have just 14 guests at their recent wedding.
"The opportunity to save money by having a smaller wedding meant that we had more freedom to spend money on the things that we love.
"We are lovers of our beautiful city, good food and wine so we chose the private dining room at Cafe Sydney. We didn't have the financial burden of a large wedding, meaning we were able to celebrate our day with all the little touches we probably wouldn't have been able to afford should we have had a large wedding."
Daniela never wanted to wear a typical wedding dress. "While I wore white, I chose a gown which was very simple but what I had always wanted and I think suitable for the occasion. Shoes and accessories were also quite simple and fitting my personality. And no expense spared when choosing jewellery and shoes! 
"Given COVID restrictions at the time and the size of our Italian family, we wanted to celebrate our day without the stress or worry of potentially having to cancel or postpone should an outbreak occur. Additionally, the idea of having a smaller wedding meant we could have an intimate event with the people that were the closest and dearest, in a location that represented our relationship and personalities."
Fiona agrees, saving the funds for an unforgettable honeymoon at a later date. "We really didn't want to spend too much on one day as it felt too extravagant," she says. "Having only our witnesses there meant we could splurge on other things – a luxe hotel for the long weekend, amazing food and later, our honeymoon in Cuba."
Others see the value in spending the cash on something just as permanent – a home – as Netflix's latest bingeathon, Marriage Or Mortgage, explores. If you're currently weighing up the decision yourself, have a watch of this guilty pleasure featuring a real estate agent and a wedding planner competing for couples' savings to create either their dream wedding or find their dream home. 
Spoiler alert! With their hand forced by the pandemic, the majority of the couples opt for micro-weddings either way, with the upside that they can often afford to do both.  
Ultimately it's all about the memories. Whatever your perfect day looks like to you, say 'I do' with something special, be it new or blue. 
Fast delivery – free over $50 – and free returns.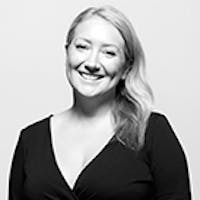 Kate Tregoning
Features Editor