As part of our journey to better manage our social and environmental impacts, we're joining the Five Days of Fashion Revolution and highlighting the actions you can take to #bethechange. One easy way for you to get on board is by simply looking at the way you take care of your clothes. We asked photographer and mum @kershaaa, as she's known on Instagram, to show us how tie-dye can refresh a pair of tired jeans, plus other tips on how she extends the life of her wardrobe favourites.
What do you think is the best way to make your clothes last?
Look after them! Wash your delicates delicately. Wear your daggy clothes for your daggy times and don't wear whites around children!
Has there ever been a time when you thought your favourite style item was 'ruined' but you still kept it or you managed to save it?
Years ago I found an old, oversized men's singlet from a vintage store that was really nice organic cotton. It was long, great for layering and in very good condition. It started to perish and had lots of holes because I wore it so much. I cut it into a crop to try and salvage it, but then it decided to completely fall apart. Now I use it as a rag for cleaning windows, but I still have it!!!
Describe your favourite DIY fashion creation.
Other than my new tie-dyed designs, I don't DIY much but I did sew all these random buttons I was collecting over the years from different places onto this old cardigan I had. It was like an instant facelift.
What's one skill you think every savvy fashionista should know?
How to take up a jean hem properly. When a raw hem is no longer fashionable I think that's a good skill to have.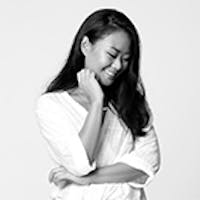 Eliza Concepcion
Fashion Editor