Skip the sugared almonds for your big day and try whipping up these tasty party favours instead. Perfect for adding an even more personal touch to your micro wedding, bridal shower, engagement party or any special occasion, these delicious treats are easy to make and will save you some extra cash so you can spend more on the things that are important to you – like the wedding dress, bridesmaid outfits, hair and makeup, shoes, accessories, the honeymoon... 
Vodka, lemon, lime and bitters love potions
This is a classic Aussie favourite concoction, perfect for those looking for a very light refreshment. It is super simple to make and only requires one crucial ingredient for that exquisite result – Angostura bitters. 
- 1.25 litres lemonade, chilled
- 60ml lime cordial
- 1 teaspoon Angostura bitters  
- Vodka 
- 6 small 120ml glass jars 
1. Combine lemonade and cordial in a jug, and stir together. 
2. Add a shot of vodka and a few drops of bitters into each jar. 
3. Fill each jar with the cordial mixture. 
4. Decorate with your own stickers or a handwritten 'we tied the knot, now have a shot' tag. 
Homemade mocha mix
Just a few simple ingredients will instantly make a delicious mocha latte that is sure to tickle their taste buds. Also pairs perfectly with a mini bottle of Baileys Irish Cream liqueur for an added kick. 
- 100g sugar
- 200g dry milk powder or creamer 
- 60g instant coffee 
- 100g cocoa powder 
- 1 tsp sea salt
- 1 tsp cinnamon 
- Marshmallow bits and chocolate sprinkles (optional)
- Mini glass vessels with lids
1. Add all the ingredients above (except the marshmallow and chocolate sprinkles) into a blender and mix until they are completely combined.
2. Fill 3/4 of the container with mocha powder. You can use a funnel to assist with the filling and then gently tap the bottom of the container onto the counter a few times to pack the mix down. 
3. Fill the last 1/4 with extra treats, tiny marshmallows and chocolate sprinkle work well.
4. Print your own personalised stickers or tie a 'drink me' tag to the container with ribbons to match your theme.
Take-home hot sauce 
You can't beat the spicy, layered flavour of homemade hot sauce. It's a fun kitchen experiment that you can completely customise—make it mild or make it hot as can be! Then bottle it up to give away as a thoughtful, handmade food gift with a tag that reads 'Thanks for spicing up our wedding day'.
- 700g peppers of your choosing (a mix of sweet peppers and hot peppers), tops/stems removed, halved 
- 6 cloves garlic, peeled 
- 500 ml filtered water 
- 2 teaspoons sea salt 
- 80ml apple cider vinegar 
- 1 tablespoon honey or maple syrup, optional 
- 1/2 teaspoon xanthan gum (optional) 
- Mini glass bottles for presentation
1. Combine the peppers, garlic, water, sea salt, apple cider vinegar, and honey or maple syrup, if using, in a medium pan over medium-high heat. Bring to a boil, reduce heat, and simmer for 10-15 minutes, or until the peppers and garlic have softened.
2. Pour mixture into a blender (making sure to leave the cover vent open, but covered with a kitchen towel) and blend until very smooth.
3. While the blender is running, sprinkle in the xanthan gum, if using, and blend for an additional minute. The xanthan gum works as an emulsifier, stabilizer, and thickener. It is 100% optional. If you choose not to use it, your hot sauce will separate in the fridge – just give it a good shake each time you go to use it. 
4. Transfer mixture to bottles and store in the fridge for 2-3 weeks.
Quick pickled dill-ights
For an alternative party favour that will add a pop of colour to your tables try pickled veggies. Simply chop up vegetables and place in clean jars, cover with a salty-vinegary brine, and leave to soak in the fridge. Decorate with ribbon and labels to make it truly unique. 
- 500ml distilled white vinegar 
- 4 tablespoons kosher salt
- 1 tablespoon sugar
- 1 tablespoon peppercorns
- 1 tablespoon coriander seeds
- 1 tablespoon mustard seeds 
- 950ml water to a boil in a saucepan.
- Mixed colourful vegetables e.g. 3 carrots, bunch radish, 3 cucumbers, 2 beetroots
- 16 mini jars 
1. Clean vessels are key. Wash your jars, lids, and sealing rings with warm soapy water and rinse well. 
2. Prep the vegetables. There's no rule against pickling produce whole, but your vegetables will absorb the brine faster if cut into pieces. Peel and slice the carrots and beetroot into rounds, slice cucumbers into coins, and wash, scrub and slice radish into rounds. 
3. Divide chopped vegetables between the jars so they fit snugly inside.
4. Combine all the brine ingredients in a large pan, bring to the boil, and then remove from the heat. Stir until mixture has dissolved. Allow to cool slightly before pouring into the jars leaving ¼ inch of headspace between the liquid and the rim for liquid-induced expansion, and screw on the lids. The heat will soften the vegetables a little and speed up the pickling process. 
5. Let the jars cool to room temperature, then transfer them to the fridge. Do your best to wait 48 hours for the ultimate vinegary snap.
Fast delivery – free over $50 – and free returns.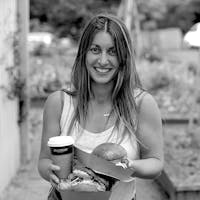 Georgia Bateman
Writer