Did you know Australians discard 23 kilograms of clothing per person every year? This results in 6 tonnes of textiles and clothing contributed to landfill in Australia every 10 minutes. Let's do better!
As part of our journey to better manage our social and environmental impacts, we're joining the Five Days of Fashion Revolution and highlighting the actions you can take to #bethechange. One easy way for you to reduce waste that ends up in landfills is by giving your clothes a second chance to make someone else's day. We've partnered with Salvos Stores and Australia Post to help address clothing waste through our Giving Made Easy initiative, and asked fashion influencer @hollyleelu to show us just how easy it is to do.
How often do you do a style cleanse?
"I would describe my style as a modern twist of 90s cool-girl street-style intertwined with a feminine take on 70s boyish style, subtle chicness and relaxed elegance, so you can imagine how much stuff I accumulate in my wardrobe! I hate hoarding though, so every 6 months I'll do a wardrobe cleanse. Usually I give a lot of my clothes and shoes away to friends. I started this fun little thing, after I got sick and tired of having sooo much stuff around, where I'd have a few friends come over and raid my wardrobe; they could take (almost) anything and as much as they wanted! We'd play dress ups and drink wine – it's a huge event haha. Social distancing has obviously made this more difficult, so it's handy to have Giving Made Easy as an option."
What would be the hardest-working item in your style arsenal?
"Honestly, relaxed sports luxe items – anything P.E Nation and a few little independent brands are on high rotation; relaxed sweaters right now, especially during the cooler months... I recently bought this divine, eccentric, electric-blue sweater which I wear to death, and sneakers – Nike Air Force are my faves."
When you're buying new, what are some questions you ask yourself before you make the purchase?
"Will this make me feel confident? Is this true to my style? What does this garment say about my style? And what is the brand / company doing to better the world and help people?"
What do you consider to be a good style investment?
"I'd have to say jackets, because they're always on rotation for years if you choose wisely with cut, fabric and colour you'll be forever blessed in the style and warmth department season round. If you can pick yourself up good quality jackets they'll last you for years and won't age."
Ready to give your own wardrobe a clear out? Discover our Giving Made Easy initiative, where you can donate your still-wearable apparel and footwear via post and give them a second life.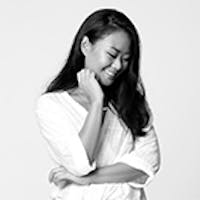 Eliza Concepcion
Editor