As part of our journey to better manage our social and environmental impacts, we're joining the Five Days of Fashion Revolution and highlighting the actions you can take to #bethechange. One easy way for you to get on board is by extending the life of your clothes. We asked fashion influencer Alisha Thornley, or @alishayi as she's known on Instagram, to show us how a mini makeover can make you fall back in love with a pair jeans that have been worn to shreds, plus other tips on how she makes the most of her wardrobe favourites.
What do you think is the best way to make your clothes last?
"Taking good care of your clothes is the single most important thing, I cannot stress this enough! Make sure you follow care labels, find a good dry cleaner, never hang heavy knits, store your clothes correctly and don't over-wash your clothes – this is a hard one for me because I love freshly laundered clothing, but for the sake of longevity, I try and spot clean if I've made a stain, and avoid throwing things in the wash if I've only worn them lightly once or twice."
What's the oldest thing in your wardrobe?
"Probably a long black skirt that used to belong to my mum. It was one of the first things she bought from an Australian designer when she immigrated from China – it's a piece that's older than I am!"
Has there ever been a time when you thought your favourite style item was 'ruined' but you still kept it or you managed to save it?
"I had a pair of high waisted long flares that I loved, but because they were so long I had stepped in gum while wearing them, and things got real messy!. I tried every trick in the book to remove the gum but the residue stuck. I ended up converting them into crop flares, and to be honest, I love them even more now."
Do you DIY often?
"I spent a lot of time on DIY projects while at uni, I guess I needed the creative outlet while studying a Politics degree! I've recently rekindled my love for DIY – I'm attempting to sew a puffy dress next so stay tuned..."
Describe your favourite fashion creation.
"Maybe not my favourite now, but at one point I was obsessed with really puffy A-line skirts and made one in every colour imaginable. I even cut up an old space print dress I had (when space prints were all the rage) and turned it into a skirt that I wore more times than I'd like to admit!"
What's one skill you think every savvy fashionista should know?
"The magic of a good hem. I tailor a lot of my wardrobe so it fits me just right; hemming is an easy thing to do yourself and it makes a huge difference when something sits at the perfect length. You'll hang on to your clothes so much longer when they fit you just right!"
And if you are ready to part ways with items in your wardrobe, discover our Giving Made Easy initiative, where you can donate your still-wearable apparel and footwear via post and give them a second life.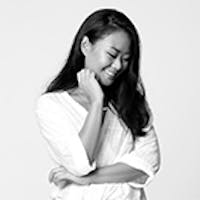 Eliza Concepcion
Fashion Editor