Bad Yogi Andrew Hampson – yogi, yoga teacher and one half of Bad Yogi retreats – has been practising yoga close to two decades. He has taught Charlize Theron, Toby Maguire, Megan Gale and Lara Bingle and, these days, you'll find him at Sydney's Body Mind Life and in must-book online classes. Here he gives us his tips on how to build your strength through the practice. 
"What most people don't realise about yoga is that it can be as gentle or as strong as you would like it to be.  A traditional flowing vinyasa class touches on all of your physical real estate. Not a single part of your body is missed, not even between the ears... It builds extraordinary confidence as over time you observe yourself moving your body in ways you never thought possible. At the same time building physical strength, flexibility and mental resilience and mindfulness.
"My favourite beginner posture to build strength is down dog, which, when new, is harder than one might think. It takes time to sculpt the body into healthy alignment and ease ... but it will always come if you are patient and have persistence. And though not necessarily advanced, (though certainly strong) I like side plank for strength because there are so many variations you can apply and different ways of challenging yourself in the asana."
"Inversions are fabulous [for strength] when taught in a controlled environment. I would also strongly encourage newer students to not put the cart before the horse and, in their earlier days, prioritise learning the basics of alignment, strength and flexibility before concerning themselves with going upside down.
"It is always a combination of both physical strength and mentality. Try not to be competitive. Not all postures work for every student or are available to every student. Listen to your body. Watch your ego. Always use your somatic awareness."
Book your Zoom class now with Bad Yogi Retreats.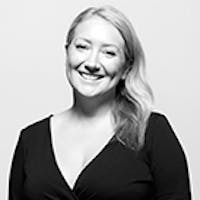 Kate Tregoning
Features Editor