Being a mother of three, wife and business owner there's never a dull moment in Miranda Kerr's busy life, but one thing the Australian model always makes time for is a dedicated moment to herself every day. In a recent blog post for her skincare brand KORA Organics, Miranda shared "when you take a little time for yourself, you can give back so much more to your family, work and friends… If you can do at least one thing for yourself each morning, I truly believe it helps set the tone for the day". Miranda's uplifting waking rituals – which include 5am starts, meditating and working out – might not fit into everyone's schedules, however one thing we could easily incorporate daily is her 5-minute morning skincare routine using KORA Organics products, now available at THE ICONIC and part of our Considered Free From and Animal-Friendly edits. We asked Miranda to share how she starts her day, and honestly, just watching the videos feels like we're practising self-care already.
Step 1: Cleanse with the Milky Mushroom Gentle Cleansing Oil
"What I love is that you shake to activate this product. It's not heavy; it's really gentle and lightweight."
This dual-phase cleansing oil transforms into a creamy milk upon mixing and melts away dirt, oil and makeup, leaving the skin feeling clean, soft and smooth. Massage 3-5 pumps on damp skin, rinse and pat dry.
Step 2: Apply the Turmeric 2-in-1 Brightening and Exfoliating Mask
"I scrub my skin every other morning. You can also leave it on for 5-10 minutes as a deeply detoxifying mask."
Thanks to its potent blend of active ingredients, this mask helps to gently polish and refine the skin, detox pores, brighten, calm and protect against ageing. Use as a scrub by massaging onto damp skin in circular motions, avoiding the eye area, and rinse off with water, or leave on for 5-10 minutes to use as a mask.
Step 3: Spray on the Minty Mineral Hydration Mist
"It's a super hydrating mist for your skin which preps your skin for the next step after you've cleansed."
This hydrating facial mist helps deliver essential moisture thanks to the hydrating, revitalising and soothing benefits of Aloe Vera, Microalgae, Blue Daisy and Sea Water. Generously spray onto your face, neck and décolleté after cleansing and throughout the day to refresh your skin. Ensure your eyes are closed and keep about a 10 inch distance as you apply.
Step 4: Smooth on the Noni Bright Vitamin C Serum
"I absolutely love this serum. It has a lightweight gel consistency which really brightens your skin and sits beautifully under makeup."
Containing a potent Vitamin C Superfruit Complex, this daily serum helps to keep your skin even toned, bright and glowing. Its water-soluble structure absorbs quickly and effectively into skin for a smoother, firmer and more hydrated effect. Apply 1-2 pumps daily onto clean skin before moisturiser.
Step 5: Massage in the Turmeric Glow Moisturiser
"It just melts into your skin and gives your skin that major glow."
Developed to target the appearance of hyperpigmentation, dark spots, dullness, fine lines and wrinkles, this ultra-hydrating formula is "the crème de la crème of all moisturisers" as Miranda says in Never Have I Ever with us. Our favourite part: it comes in a refillable pot to help reduce waste. Warm a small amount of product in the palms of your hands and gently massage into clean skin after applying your serum. Once you've run out, simply replace with a new refill pod.
Step 6: Layer on the Noni Glow Face Oil
"This is a cult product which people just love all around the world. It is great for all skin types. I call it the golden oil and press it into my skin."
A rich source of antioxidants and essential fatty acids, this rich yet delicate oil can help to nourish, smoothen and brighten your skin. Warm a few drops in the palm of your hands and apply to moisturised skin as the last step in your skincare routine.
Step 7: Finish with the Noni Radiant Eye Oil
"This oil is super special because it has a rose quartz rollerball so when you apply the oil, you feel the soothing quartz and the loving energy of the rose quartz. When you feel good, you look good. And that's what KORA Organics is all about."
Made specifically for the delicate eye area, this soothing oil helps to tone and brighten for a youthful and radiant appearance. The natural rose quartz roller ball applicator adds to the truly unique soothing experience. Gently roll onto the area beneath the eye and use your fingertips to tap the oil into the skin.
Fast delivery – free over $50 – and free returns.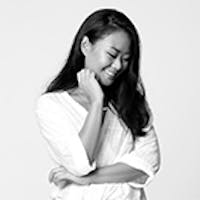 Eliza Concepcion
Editor