While some things will forever remain a mystery – like who the supermodel dreams about – we played Never Have I Ever with Miranda Kerr where she revealed her top beauty secrets to celebrate the arrival of KORA Organics at THE ICONIC. A cult favourite among many around the world, you can now find certified clean and cruelty-free KORA Organics using THE ICONIC Considered Free From and Animal Friendly filters. Get to know Miranda in the video above and read on for the products she swears by.
Never have I ever gone to bed without removing my makeup.
"True. I have never gone to bed without removing my makeup because I'm crazy about taking a shower and washing my makeup off regardless of what time it is or how exhausted I am. A great way to wash off your makeup is with our wonderful new Milky Mushroom Gentle Cleansing Oil. It melts away all your makeup and it's so soothing and calming for your skin and your senses."
Never have I ever left the house without moisturising.
"Even if I'm just dropping the kids to school or going for a walk around the block, I always moisturise. I'm obsessed with moisturising – my face, my body – I just love to be moisturised, which is why I've created some of the best moisturisers out there! The incredible Turmeric Glow Moisturiser is the crème de la crème of all moisturisers and leaves your skin with the most beautiful glow. You will thank me if you use this product, and you will never leave the house without moisturising once you've tried this!"
Never have I ever wanted to pop someone else's pimple.
"I'm not really into it! I like to pop my own sometimes; not really anyone else's... You know, I have a better tip than popping your pimple: just put a little bit of the Turmeric 2-in-1 Brightening and Exfoliating Mask on it as a spot treatment and let it dry. It'll pull out the impurities, then maybe you won't even need to pop a pimple."
Never have I ever been tempted to exfoliate every day.
"I constantly exfoliate every day (well, almost every day) because I am obsessed with the Turmeric 2-in-1 Brightening and Exfoliating Mask which has little Rosehip Seeds in there to exfoliate your skin, and it has AHA exfoliation with Papaya Enzymes and Aspen Bark. This is just an all-round incredible exfoliating experience – it's like a facial in a tube – and it smells so fresh and invigorating because it has essential oils and Peppermint. I'm addicted, my husband is addicted, pretty much everyone who has tried this around the world is addicted, so you may also be tempted to exfoliate every day if you have this product."
Never have I ever made a KORA Organics product I didn't like.
"I put my whole heart and soul into creating products that I absolutely love. I don't want to launch them until they're more than 100% and I sometimes drive my team crazy because I go back and forth with samples. I just feel so lucky that we work with the best chemists in the business to help bring my vision to life."
Fast delivery – free over $50 – and free returns.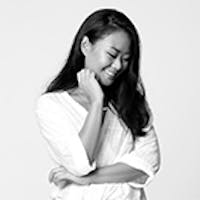 Eliza Concepcion
Editor