The start of a new season often calls for a hard refresh, a spring clean of not just our house but of our full daily routine. For a bit of inspiration, we asked one of Instagram's most stylish, @annaheinrich1, to share her new daily spring rituals. 
"Spring reset to me means new beginnings. You want to put behind winter and autumn and the colder months and start afresh. Flowers are blossoming, it's warmer weather, there's so much more to do."
"My day-to-day has changed dramatically since the beginning of the year. I'm a lot bigger so things are a lot harder; I'm out of breath a lot more, but on a positive note, my husband is back so we get to do things together on a day-to-day basis. One of my favourite rituals to help me get energised and restart is going for a beautiful walk, and we're extremely lucky to live in an area where there are lots of beautiful walks… I might be straggling, quite far behind and out of breath but at least we get to do it together."
"What I'm looking forward to most this spring would have to be – and I feel like I'd get in a lot of trouble if I didn't say this – is the arrival of our new baby girl! She's going to be a spring baby so I'm very, very excited about that, but second would be spring fashion. I'm excited to put my jeans and coats aside and put some colourful dresses on, go outside more, go to the beach more – there is so much to look forward to and I'm just so glad spring is here."
"This is my ICONIC spring reset look. I've chosen this look because I absolutely love the colour. I love the vibrancy of the orange but I also love the dress because it's free-flowing, it's relaxed, it's super easy to wear, and it's extremely versatile. Now, I'm not wearing shoes because I'm at home, but you can definitely dress it up or down depending on where you're going. And, it's perfect for pregnant women, like me, but it's also perfect for someone who's not pregnant so it is the spring dress." 
Fast delivery – free over $50 – and free returns.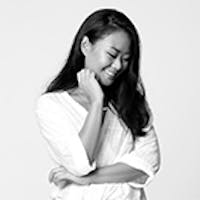 Eliza Concepcion
Editor