Do you practise morning yoga, read once a day, buy a fresh bunch of flowers or start with a glass of lemon and hot water every morning? Maybe it's a change of outfits?! Or something more? The start of a new season often calls for a hard refresh, a spring clean of not just our house but of our full daily routine. For some, adding a new habit to their morning ritual is all it takes to help them reset, for others it might not be as simple to stumble upon, so we checked in with one of our Bondi favourites, @_yanyanchan, to uncover how she restarts each day. 
"Recently I've been starting my mornings with a 5-10 minute stretch. It incorporates a little bit of yoga, nothing too strenuous, but I find waking up and moving my body in a really slow and gentle way is really relaxing. I hate being on my phone when I first wake up because it really stresses me out."
"In the mornings, I'll make a matcha smoothie. I actually stopped drinking coffee 2 years ago, I only have matcha now for caffeine – it's really good because it's a slow release so you don't really get that sudden panicky feeling, it just makes me feel really relaxed and focused throughout the whole day... The best thing about matcha is that it's got heaps of good antioxidants. I do a spoonful of macadamia nut butter, oat milk, frozen mango cheeks, and frozen bananas, and then I add some collagen." 
"I love doing a 5 minute gua sha on my face every morning. I feel like it just really wakes my face up. You don't have to apply too much pressure, but the jade gives you a cooling sensation. You just gently push your skin and massage upwards, following that line there. It will help depuff your skin. If you don't live near the ocean, I always like to rub an ice cube over my face gently before this step. It just really brings the blood to the surface of your skin and helps depuff it."
"Ever since quarantine, when I do wear makeup I really just try to keep to using less than 5 products... I tend to like applying everything with my fingers and hands because I feel like it just applies everything quite seamlessly and it's also just nice not messing around with brushes and things like that."
Fast delivery – free over $50 – and free returns.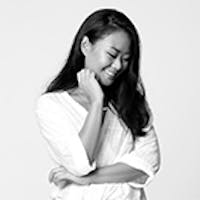 Eliza Concepcion
Editor