We spoke to Humming Puppy yoga instructor Emily McCarthy on her top yoga tips and the idea behind sound healing… 
When you go to a Humming Puppy class, the room actually hums! What is the idea behind that? And how can you do yoga in an ordinary room after you've experienced that?
"The Hum in Humming Puppy! It is such a powerful vibration that moves through your whole body. The sound in the room is injected with a combination of frequencies to both enhance and deepen your experience. More specifically, there is a combination of 7.83hz and 40hz. 7.83hz, otherwise known as the Schumann Resonance, it's actually the frequency of the earth itself and helps to 'ground' you through your practice. 40hz is specifically associated with 'Gamma' brainwave activity, integral for achieving states of peak performance. When I practice at home, I miss the hum so much that I stream it from our on-demand platform. Not that I am attached to it! It is such a beautiful practice accompaniment."
Can you tell us about 'sound healing'? 
"Sound healing comes in many forms. Traditionally it is an ancient meditative practice. Different musical implements can be used to create healing vibrations throughout a space or a body. Sessions can be carried out using various healing instruments, including gongs, singing bowls, tuning forks, acoustics and even voice. It is effective in not only achieving a state of relaxation but it also has a way of moving through energetic blockages within."
With everything that's gone on in the world, this is the year to embrace yoga. What can be the effects of yoga, particularly on mental health? 
"As mental health is such a crucial topic at present, I feel even more inspired and motivated to shout from the mountain tops about the practice that saved me. Yoga keeps you really accountable for your words spoken, thoughts processed and actions executed. A regular practice really does enable more calm, better sleep, less 'reactions' and most importantly, time to actually be with yourself. Whether turning up for yourself is pretty or daunting, this is the important stuff."
You were a dancer first so what drew you to yoga and did having that background help? 
"I feel so lucky to have had a background in dance, however there were both advantages and disadvantages when moving into the practice of yoga asana. Naturally with dance, I gained so much flexibility, strength and overall body awareness. All of which are such huge elements of the physical practice. The con that comes with being a dancer, is the competitive nature and the self-image issues. This took me quite a number of years to overcome. Even still, I have moments of hesitation or ego-overwhelm; but catching yourself out in these moments of judgement is such a vital and beautiful part of yoga."
What personal benefits do you experience? 
"In my life, nothing is more important than feeling connected. Connected to my truth, my strength, my suppleness, my breath, my words and my heart. This is why I practice."
What do you advise wearing for yoga? 
"Something loosely fitted, full-length tights. It goes without saying that you absolutely need to feel comfortable. You don't want to be thinking about hitching up pants that don't fit well, or saving yourself from a nip slip. My personal preference would be fitted but moveable 7/8 leggings (this is helpful for sweaty arm balances like Bakasana). I also enjoy the waist to be a little higher, so I feel held in all the right places. A supportive crop top is essential! And then anything else that helps for you to feel happy in your body."
"I'm more or less looking for a second skin. Breathability, minimal seams, bust support, and also a sense of 'nice'. Whereas if I was to head out for a bite to eat afterward, it's not criminal for me to do so in my activewear. You must live in flexible clothing."
[From this Nike yoga range] the Infinalon legging was so snug. I was able to move graciously and freely. My mind was nowhere else but on the mat. The pairing crop (Yoga Infinalon) was also a total treat. I love a slightly higher neck and a longer crop, so it was ticking all the boxes for me. Both were soft to touch and delicious to wear."
What are three simple things budding yogis can do? 
"1. Find a teacher(s) that speaks to you. 
There are so many incredibly gifted yogis sharing ancient teachings. Some that will resonate better with you than others. This may take time, but be patient with the process of getting to know yourself (alongside your teacher) a little better.
2. The old token saying; 'Consistency is Key'. 
Sticking to a regular practice is profoundly powerful. Your practice may not always look or feel the same and this is how the learning unfolds.
3. Be curious. Less resistance, more openness. My favourite Mantra."
Fast delivery – free over $50 – and free returns.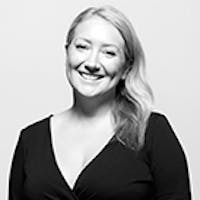 Kate Tregoning
Features Editor