There's a near-irresistible sense of freedom that comes with summer. It's an adventure you can feel in the warm air and in the memories of summers past.
This season, we asked Australian creatives – models, photographers and those we admire – to share a snapshot of their summer, and all that makes it special.
This campaign took us around the nation, sharing home towns and favourite haunts from the bush to the beach, each led and shot by those who call that place home.
Rae Rodriguez – model and environmentalist – has spent many summers all around the globe. Currently in Sydney, she showed us around one of her favourite swim spots, the secluded oasis that is Gordons Bay, and shared her beauty secrets for glowing skin all year round.
Tell us a little about what summer meant to you growing up? 
"I grew up in Singapore, halfway across the world from my home of Puerto Rico, where my parents were teachers at an international school. This meant that every summer we had two months off together, and often we went back to Puerto Rico! For me, summer meant reconnecting with my family and heritage, and soaking up as much culture as possible before returning to the school year in Asia, never knowing for sure when I'd be back home." 
What do you love most about summer? 
"I'm a sucker for laying out on the beach with a good book, some fresh Bowen mangos, and warm ocean water." 
What does summer beauty mean to you? 
"Hydration! Glowing skin (for me) always comes from drinking enough water." 
What are your top 3 summer beauty hacks? 
1. "Always wear sunscreen. UV damage is no joke, especially here in Australia. I use a non-toxic natural physical sunscreen to protect my skin from nasties."
2. "Keep cut aloe vera leaves in the fridge for post-tanning cooling!"
3. "Since my curly hair dries out easily, I apply a hair oil before heading to the beach. Think of it as an all-day deep conditioning treatment."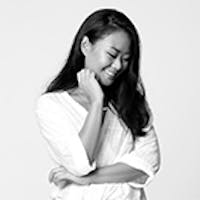 Eliza Concepcion
Fashion Editor