The most sustainable pair of jeans are the ones you already own, but if you're in need of an upgrade and you've tried your luck at second-hand with no success, maybe these more sustainable options will be the perfect fit for you.
1. Levi's Dad Jeans
They're a more rigid design that get better and better the more you wear them, you can dress them up with a pair of heels or go casual with romper-stomper boots, but the best part about these jeans is that the brand donates part of their profits to a charitable cause with every purchase. So not only do you get a pair of jeans that you will literally live in, you also contribute to a greater cause.
2. Nobody Denim Cult Skinny Jeans
They're sleek and streamlined with a comfortable amount of stretch and their deep indigo rinse means they transition from day to night with ease – these are the jeans for all your 'jeans and a nice top' combos – but what we love most about them is that they're manufactured locally in an accredited Ethical Clothing Australia facility.
3. TOPSHOP One Oversized Mom Jeans
If figure-hugging fits aren't your style, then give these a go. Their rich black rinse is guaranteed to go with everything in your wardrobe without fail. Wear with heels when you're feeling boujee or roll the cuffs to show off your favourite pair of sneakers. Versatility is one thing we love about this pair, but they're also made using organic cotton, which means no nasty chemicals were used in the growing process.
4. The Fated Radical Mum Jeans
Similar in shape and silhouette to the Levi's Dad Jeans except they've already been faded and softly shredded for you to give them that preloved look and feel like you've had them for years. Not only will they feel like yours from the moment you zip them up, but like Levi's, with every purchase the brand also donates part of their profits to charity.
5. Good American Good Legs Jeans
If you've got a newfound love for all-day stretchy comfort (no shame, us too), Good American jeans are made using a premium fabric that not only has exceptional stretch recovery (the fabric moves with you but springs back to shape between wears) this pair is made using organic cotton which has a lower environmental impact than conventional cotton.
For more sustainable denim options shop our Considered edit, and if you've grown out of your old jeans but they're still in good condition, you can always give them a second chance and donate them via our Giving Made Easy initiative.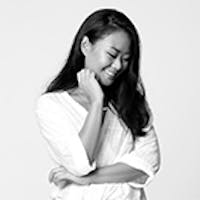 Eliza Concepcion
Fashion Editor