When your bra fits correctly, there's no better feeling. You're supported, you're comfortable, and it's not just your mood that is lifted. But finding a bra that fits you like a glove doesn't always come easy and understanding bra sizing can be confusing – especially when sizes vary from brand to brand and country to country. With the help of Calvin Klein's fit experts, we're breaking down bra sizes and teaching you how to measure yourself at home so that you can shop online for lingerie with confidence, and experience what wearing a good bra should feel like. Read on for our bra tips and advice, or you can watch the #CKunfiltered: bra talk video here for a complete visual guide.
What do the letters and numbers mean?
Bra sizes factor in two measurements: the band circumference and the cups. The band is the part that goes around your ribcage and sits under the bust. Fun fact: it is actually the part of the bra that provides the most support, not the straps. In UK and US sizing, the band is measured in inches in even numbers (32, 34, 36 etc.). In AU sizing, we measure the band in standard AU sizes (8, 10, 12 etc.). In EU sizing, it's different again, and measured in centimetres in increments of five (65, 70, 75 etc.).
The cups, on the other hand, reflect the volume of your breasts and are measured in alphabetical units (A, B, C etc.), however, only in EU sizes do they go from D to E to F and so on. In UK, US and AU sizing, the letters can double up (and even triple up or more), e.g. DD, FF, GG etc. In this case, the more letters, the bigger the size, except for AA cups, which are actually smaller than A cups. Confusing? We know, but once you understand your measurements, it all becomes easier (sort of!). 
So what exactly should you be measuring?
The images below show you exactly how to measure yourself using the 'under over method' – under the bust and over the bust. We recommend wearing a lightly lined t-shirt bra while you measure yourself. Avoid wearing a heavily padded bra or bulky clothing, as this may lead to inaccurate measurements. You can also wear a light t-shirt or a thin camisole or singlet while you fit yourself – you don't need to strip down completely, especially if a friend or family member is helping you.
First, measure your band/underbust section by wrapping a tape measure around your ribcage. The tape measure should sit comfortable under your bust – there is no need to pull too tightly. Next, measure your cup/bust/overbust section by wrapping the tape measure around the fullest part of your bust. Again, you want the tape measure to sit comfortably over this area, not hanging loose or pulling too tight. Note both measurements down (in centimetres and inches, just in case), and when you shop online for bras and lingerie, remember to cross reference the brand's size guide and match your measurements with theirs to find your closest fit.
Telltale signs that a bra doesn't fit properly:
- The cups fit but the band rides up at the back
- Your boobs spill out of the cups
- The underwire digs in making it uncomfortable
- The straps leave imprints on your skin
Then how do you tell if a bra actually fits?
The band should be on the loosest fitting clasp when you're first trying on a bra. You want it on the last option so that as the band loosens over time (a natural occurrence with regular wear) you'll then be able to tighten it by adjusting to the next clasp. The band should also sit level to the floor – if it rides up then the band is too loose and you won't get the support you need. It should also be firm, but not uncomfortably tight. A good-fitting bra should stay in place even if you were to remove the straps.
As mentioned before, most of the support from your bra actually comes from the band, not the straps, therefore your bra straps should feel comfortable to wear. There should be no reason for them to be digging in and leaving red marks, nor do you want them to be so loose they constantly slip off your shoulders.  
The centre of the bra should be sitting flat between your chest – if it's being pushed out by your boobs, you might want to try the next cup size up. If underwire is involved, check that the wire sits comfortably on your chest and goes behind your boob. Your boobs should sit within the bra cups. If they are spilling out and you have a double boob situation, try the next cup size up. If your boobs fit within the cup and there's room to move, try going down a cup size. 
According to Calvin Klein's fit experts, 'sister sizing' is the best method to find your most accurate bra size. Think of sister sizing as 'one up, one down' so if you were to decrease your band size, you need to increase your cup size to accommodate space for your boobs. Similarly, if you wanted to increase your band size, you would also go down in cup size.
It's also important to remember that these measurements are only a guide to help you gauge your closest bra size as possible, but at the end of the day, it all comes down to trial and error. There are many factors, like fabrics, cuts, styles etc. that may impact bra sizing – even if you know the brand well or have worn the same style before. We recommend trying on a few different sizes on either side of your measurements, and making the decision on what feels best. And, like the rest of your body, your boobs can change shape over time, so remember to check your breasts regularly and adjust your measurements accordingly.
Free delivery over $50 and free returns.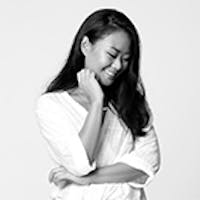 Eliza Concepcion
Editor