It's a time of change and disruption, leaving many taking a long hard look at what changes they want to make in their lives.  For lots of us, it's time to think about our career, and, through choice or through necessity, on the lookout for a new role. 
So dig out the resume and let's make it the best it can be, with the help of our expert friends…
It seems obvious but you'd be surprised how often it crops up – check your spelling!  When applying for a role that will require excellent communication skills, simple errors will mean your CV goes straight in the trash folder. 
Some companies are inundated with applications and ask for something as simple as completing a form in a black pen as a test you can follow simple instructions before you've even begun. 
We asked Rachel Fisher, from THE ICONIC's Talent Acquisition team, what else to bear in mind...
Are there any CV tips people don't think of when applying for jobs or improving their own resume?
"Personalise your application! There's nothing worse than reading a CV addressed to the wrong person. Take time to reflect on the job advertisement and how your skills align with the position. Tailor your CV to align with those requirements and add in personalised touches which make your CV stand out from the rest."
What's the worst thing you can put on your CV, in your opinion?
"Spelling or grammatical errors, personalisation errors like addressing your CV to the wrong company/recruiter, or playing it too safe. For example, if you're applying for a creative role. We want to see your creative skills! Nothing worse than receiving a CV where people are scared to show their creative talents. Don't make the error of submitting ordinary work. CVs are your physical representation of your career to date, make it stand out!"
What's the main thing people forget?
"Surprisingly, contact details. Often I'll read an awesome CV and can't find either the candidate's phone number or their email address. In our world, there's nothing worse than not being able to contact an amazing candidate because they've either forgotten to include their information or mixed up the spelling of their email address."
Have you seen any that you've never forgotten?
"I've previously had a candidate apply for a role through creating a custom video instead of the traditional CV. During the video, they walked me through their experience and why they felt they'd be a perfect match for the role. It was super cool and appropriate given the role was for a photography position."
How do you feel about adding colours and designs?
"Love it! Canva has some great templates which are pre-designed, so anyone can have a brightly coloured CV. I'd suggest always picking your audience. For example, if you're applying for a role clerical administration position within a more conservative industry, have a think about how much colour/design you include. For companies like us at THE ICONIC, colourful CVs are always welcome!"
When you make it to the interview stage, what's your number one interview tip?
"Remember that the interview stage is as much about the company interviewing you as it is about you interviewing the company. Prepare loads of questions that will help you access whether or not this is the right opportunity for you. I always love interviewing candidates who've really taken the time to investigate why we'd be an employer of choice for them so I'd strongly advise keeping this in mind when preparing for your interview and acting with confidence when it comes to selecting your next career opportunity."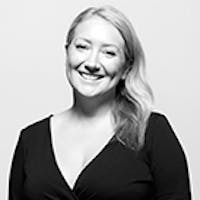 Kate Tregoning
Features Editor